পরীক্ষা বোর্ড
Board of Examinations, BOEX, was set up in 1990 under the following mandate from the GBC.
A standing committee, called the ISKCON Board of Examinations shall be formed. This committee shall have power to review and approve proposed examinations for the awarding of the degrees Bhakti Sastri, Bhakti Vaibhava, Bhakti Vedanta, and Bhakti Sarvabhauma. The basis for review and approval shall be the guidelines given by Srila Prabhupada for the awarding of these degrees. No ISKCON center may award these degrees without seeking the approval of the ISKCON Board of Examinations.
Thus, the GBC empowered Board of Examinations (BOEX) to institute a system for approving ISKCON centres authorized to award ISKCON sastra degrees.
This Board of Examinations (BOEX) now functions under the supervision of the ISKCON Ministry of Education.
Functioning
The Board members come together twice a year for formal face-to-face meetings during Gaur Purnima in Mayapur.
Issues from various centres are received by the Secretary by e-mail.
When resolved, the Chairman issues a resolution to the Secretary.
The concerned centre is accordingly informed by the Secretary about the Board's decision on the matter raised by the centre.
The Board Secretary incorporates changes, if any agreed, into the standards for various sastric degrees and issues the standards formally.
The Secretary / Asst. Secretary also issue an Annual Report at the end of a calendar year to highlight the key activities, decisions and resolutions passed during the year.
Members of BOEX
Yadunandana Swami
Yadunandana Swami principal of Bhaktivedanta College, teacher, and spiritual counselor is a sannyasi (monk, religious mendicant) in the International Society for Krishna Consciousness (ISKCON). He is an initiated disciple of His Holiness Satsvarupa Dasa Goswami and a sannyasa disciple of His Holiness Jayadvaita Swami, who are both disciples of His Divine Grace A.C. Bhaktivedanta Swami Prabhupada, the Founder Acharya of ISKCON. Yadunandana Swami has been studying and practicing Caitanya Vaishnavism since 1977. Presently, his main services in ISKCON are focused on systematic God-centered education by developing educational initiatives and by teaching courses on Bhagavad Gita, Srimad Bhagavatam (Bhagavata Purana), and other subjects. He is convinced that such education is the best way to improve the lives of individuals, develop communities, and, ultimately, better the world. Apart from his services in education, he is also active in interreligious dialogue and lectures on the philosophy and culture of Krishna consciousness in many countries around the world.
Bhakti Prabhava Swami
His Holiness Bhakti Prabhava Swami, born in Belgium, in 1960, met devotees in Ghent in the summer of 1992. From 1992 to 1996 he was active in Nama Hatta preaching in Ghent, and joined the Radhadesh temple in 1996. In 1994 he met His Holiness Bhakti Charu Swami who accepted him as his disciple and gave him first initiation on 12 March 1998 and second initiation on 25 August 1999. On the 31st May 2015 he was Awarded sannyas initiation by Bhakti Charu Swami. Right after his second initiation he became the first secretary for the newly formed European RGB. He organized the first European Leaders Meetings (ELM) and went on several missions for the European RGB. In 2002 His Holiness Bhakti Prabhava Swami was requested to become to Secretary for the Global GBC Body and the Secretary for the GBC Executive Committee. He fulfilled that role until September 2009. From 2011 to 2016 he served as Secretary for the GBC Sannyasa Ministry and helped with the development of the ministry. During that period he attended all GBC meetings and all GBC mid‐year meetings. He organised the first GBC midyear meeting held at Prabhupadesh in Italy in October 6‐9, 2006. From 1996 to 2007 he engaged in management of the Radhadesh projects, mainly taking care of supervising the administration, tax defence and legal matters. He also served as legal director, trustee, teacher and student in the Bhaktivedanta College. In 2011 he shifted his home base to Leicester (UK) where he introduced the Bhakti Sastri course. Since 2015, Bhakti Prabhava Swami is offering bhakti-sastri and bhaktivaibhava on-line courses. His Holiness Bhakti Prabhava Swami travels and teaches Srimad Bhagavatam and other bhakti scriptures in ISKCON centres and institutions around Europe since early 2000s, especially in the UK, Ireland, Germany, Ukraine, Canada, United States and Bulgaria. He studied Bhaktivaibhava (2001-2005) and Bhaktivedanta (2006-2011) at the VIHE in Vrindavana, earned a PhD in the Study of Religion at the University of Wales (2016) and published a number of academic articles. He currently serves as a member for Sannyasa Ministry and as a member for the ISKCON Board for Examination. Since early 2018 Bhakti Prabhava Swami is serving as Temple President for ISKCON Belfast.
Atula Krsna Das
Atul Krsna dasa joined ISKCON's Melbourne Mahaprabhu Mandir in Australia in 1985. He served as a book distributor and fundraiser in ISKCON Melbourne for 12 years. Prabhu spent the subsequent 4 years, under the personal guidance of his mantra guru, preaching in Bangladesh, during which time he learnt fluent Bengali. Prabhu resides in Sri Dhama Mayapur, and teaches sastra and teacher training in both English & Bengali mediums, throughout India, Bangladesh and the Middle East. He currently serves as the Chairman of the ISKCON Board of Examinations.
Vamsivadan Das
Vamsivadan Das studied MBBS from Pune University and is a medical doctor by profession. He was introduced to Krishna Consciousness in 1996 and joined ISKCON Pune as full-time brahmachari in 1999 where he served in youth/college preaching and corporate preaching departments. Vamsivadan Das teaches Bhakti Sastri, Bhakti Vaibhav, Bhaktivedanta, TTC, ISKCON Disciples' courses in various parts of India and outside. He is a teacher at Mayapur Institute. He is a member of ISKCON Board of Examinations and is serving as a Secretary General for ISKCON LEADS (Leadership education and development system).
Gauranga Darshan Das
Gauranga Darshan Das, a disciple of His Holiness Radhanath Swami, is dean of the Bhaktivedanta Vidyapitha (www.vidyapitha.in) at ISKCON Govardhan Eco Village (GEV), outside Mumbai. He has written study guides, including Bhagavata Subodhini and Caitanya Subodhini, and teaches Bhagavatam courses at several places in India. He also oversees the deity worship at GEV.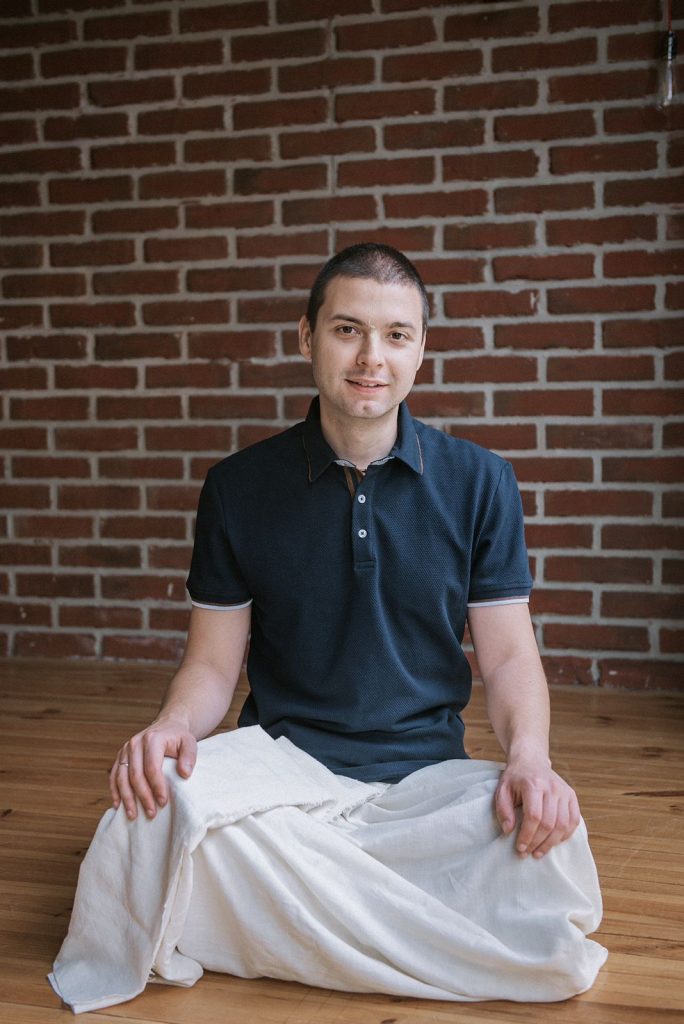 Devakinandana das
Devakinandana das grew up in a devotee family in Minsk, Belarus. From 2005 he was living in brahmachari asram. He got a bachelor's degree in teaching English. He received first initiation in 2008 and 2nd in 2009.
In 2010 he moved to brahmachari asram in Almaty, Khazakstan. His main service was sankirtana and education programs. He got married in 2014 – in the same year he started active traveling and preaching in Russia, Khazakstan, Ukraine, Belarus, Uzbekistan, and other parts of Europe.
He has been HG Chaitanya Chandra Charan Prabhu's secretary since 2010.
He holds a Bhakti-sastri and Bhakti-vaibhava degree, and is a member of the Governing Council in Almaty.